How to keep it clean with ZipWall® Dust Barrier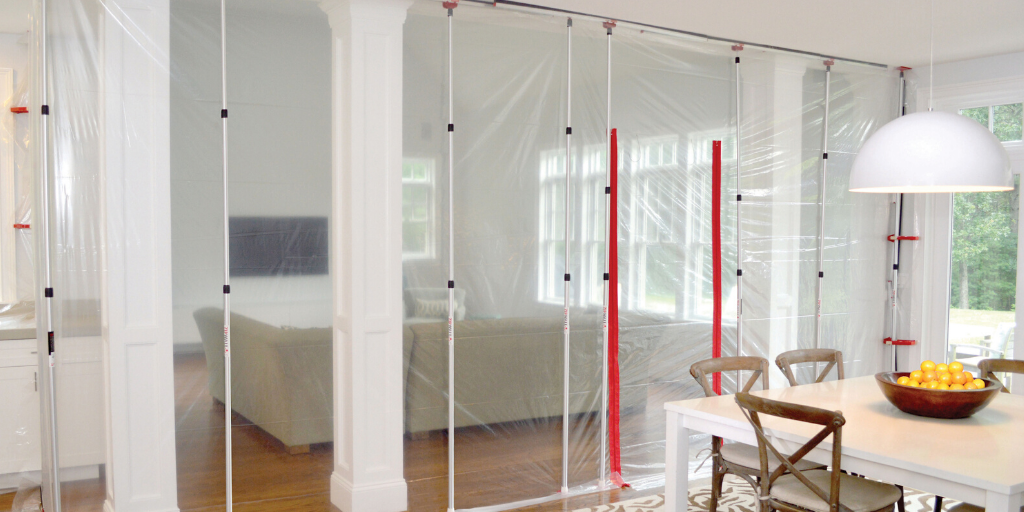 When carrying out any kind of maintenance work or refurbishment dust and debris can be a real issue. Not only is it messy and contaminates every surface but it can also be damaging to our health. OK so you've got all the right PPE but what about the customer or other members of staff. According to the HSE over 500 construction workers are believed to die from exposure to silica dust every year so protecting your customers and other staff is just as important as protecting yourself.
This article explains how the ZipWall dust barrier system can be used to quickly create a barrier around your work area to contain dust and debris when working. This article is also relevant to the current COVID-19 situation if you are looking to section off areas and create temporary barriers between staff and areas to help with social distancing.
Creating a dust barrier has never been easier, no really, it hasn't. All you need is a pack of ZipWall poles and a sheet of polythene. So there are a number of poles available on the market, so what is special about these ones. Well ZipWall poles feature 100's of patented design features, one of the best features is the spring loaded head on the top of the pole.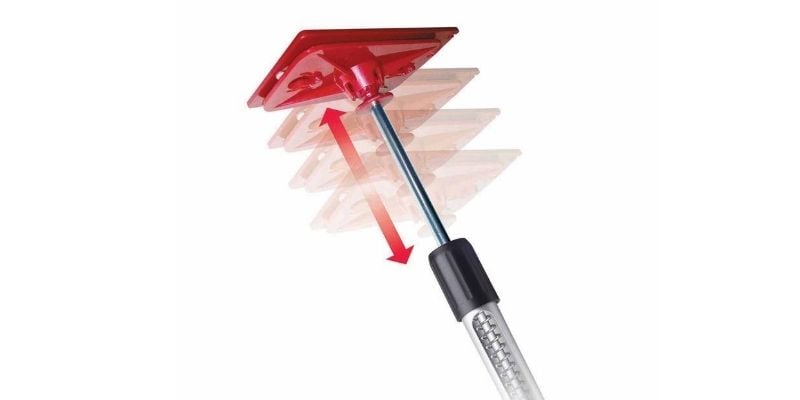 Diagram of spring loaded head
This allows the pole to be easily adjusted during installation, no more tricky pole adjustments just to get the polythene in the right place, just a simple lift of the pole base. Then once you're happy with the position of the pole you simply compress the spring loaded head and lock it in place. Done!
The example above is just one scenario for using ZipWall, others include;
Shop refits (full or partial) - ZipWall can be used to section off areas of a store so that work can be carried out without causing mess or disruption to the other areas of the store.
Building work - Such as house extensions where the dust and debris risks contaminating other areas of the home.
Hospitals - ZipWall is used in many hospital wards where deep cleaning is taking place on a ward or where a particular ward needs to be sectioned off to prevent contamination.
Office refits/maintenance - The dust barrier can be put in place so staff can continue to work safely while the refit or maintenance is taking place.
Social distancing - ZipWall barriers can be used to create zoned areas or dividers to help implement social distancing in offices, hospitals and other indoor spaces.
The video below shows how quickly a dust barrier can be set up with ZipWall.
Making a doorway
Once the barrier is in place you need a way to get through the barrier. The ZipWall Heavy Duty Zippers provide this access. Simply stick two zips at least one meter apart, cut through the polythene behind the zip and you have a fully usable temporary door.
Once the door is in place it can be closed whilst work is carried out. The ZipWall dust barrier system can even be used in negative air spaces.
Calculate ZipWall for your job here
Forming an tight seal
If you want to create a really tight, neat seal then there are some excellent ZipWall accessories available such as the ZipWall Foam Rail and the ZipWall SidePack. These are used to easily create a tapeless, tight seal around the ceiling and sides of the dust barrier to prevent any contamination while work is carried out without the need for tape which could damage surfaces and paint and looks generally messy. The video below shows how simple ZipWall FoamRail really is to use.
A single door solution
If you are looking to seal a single doorway then ZipDoor may be your best option. It is easy to install and removes without leaving any damage to the door frame. A ZipDoor kit consists of a sheet of thick polythene with two heavy duty zippers already attached and a roll of double sided painters tape. The doors can be reused and there should be enough tape on the roll for a couple of uses but unfortunately the tape is not available as a separate item.
The doors are available in standard and commercial versions. The standard version will fit a doorway up to 91cm wide by 213cm high and is not fire retardant. The commercial version will fit a doorway up to 4ft wide by 8ft high and is fire retardant which is usually a required on building sites and commercial premises.
The video below shows how to use a ZipWall ZipDoor.
So that's it, with a few ZipWall products you can create a clean and safe environment to carry out work that protects your customers property and more importantly their health.
More about ZipWall
ZipWall LLC is the maker of the ZipWall® Dust Barrier System, the only comprehensive dust barrier solution for construction, remodelling, and renovation. ZipWall pioneered the dust barrier category in 1997 and continues to transform the field with twenty-five patents, numerous industry awards, and a steady stream of innovative products.
Conclusion
A ZipWall® dust barrier can be set up in just a few minutes without ladders, tape, or damage. ZipWall® products are used by residential and commercial contractors to meet practically any dust barrier installation challenge – setting up a plastic dust barrier, setting up a reusable-fabric dust barrier, creating an entry in a plastic barrier, creating a room within a room, covering a door, sealing off a hallway, or sealing a barrier without tape – to name a few.
How do you reduce dust during work?